Source: Link Testing Instruments Co., Ltd
A plastic bag, polybag, or pouch is a type of container made of thin, flexible, plastic film, nonwoven fabric, or plastic textile. Plastic bags are used for containing and transporting goods such as foods, produce, powders, ice, magazines, chemicals, and waste. It is a common form of packaging.
Plastic bags are widely used because of its outstanding features such as low price, light weight, large capacity and using convenience, etc. However, most of the plastic bags are made of undegradable films, which may cause great harm to the environment. Actually the heavy-duty reusable plastic bags are often considered environmentally better than single-use paper or plastic bags. That's why we strengthen the importance of the service life of plastic bags. Therefore it is necessary for the manufacturers of plastic bags to improve the strength of the plastic bags, especially the seal performance of the bottom of plastic bags. If the heat seal strength of the bottom of plastic bags is insufficient, the sealing area may be liable to leak or get broken and the plastic bags will not be able to be used anymore. The manufacturers should strengthen the heat seal strength of the bottom of plastic bags in production by which the service life of the plastic bags can be extended and the environment issues caused by discarded plastic bags can be reduced.
This article provides a test method of heat seal strength of the bottom of plastic bags for your reference. The test specimens we tested are common plastic shopping bags with carrying handles. The testing instrument we used is Link Testing's LTS-05 Auto Tensile Tester.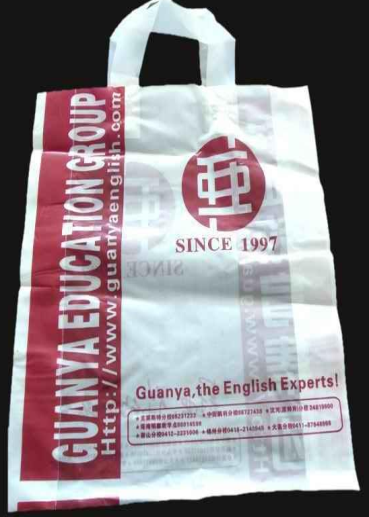 Figure 1. Plastic Bags
Figure 2. LTS-05 Auto Tensile Tester
In the tests, the specimens are clamped between two sample grips. Then the sample grips will move in opposite directions. The change of tensile forces and displacement will be detected by the load cell and displacement sensor built in the moveable sample grips. With the recorded values, the test results of heat seal strength, tensile strength, tear strength and elongation rate can be calculated automatically by the system.
In general, the tests can be performed according to the following testing procedures.
Cut 10 pieces of specimens from the bottom of provided plastic bags. The width of the specimen should be 150mm and the developed length of the specimen should be 100mm.
Clamp the two ends of the specimen in the two sample grips. The longitudinal axis should coincide with the central line of sample grips.
Set test speed, specimen width and other test parameters.
Click Start Test to start the tests. The force values will be recorded automatically in testing process and the test results will be calculated automatically after tests.
For more details about LTS-05 Auto Tensile Tester, please visit www.linktesting.org
About Link Testing Instruments Co., Ltd:
Link Testing Instruments Co., Ltd is one leading supplier of packaging testing instruments, which is headquartered in Jinan, China