Source: Link Testing Instruments Co., Ltd
Sterile surgical films are mainly PU or PE based films coated with pressure-sensitive adhesives for medical use. The surgical film is used in surgical operation by applying it on the surface of skin to protect the wounded area from contamination or infection caused by scurf carrying bacteria or microbes hiding in the deep layer of the skin. The tack is one critical property that may influence the performance of the surgical film. To be specific, if the surgical film does not have sufficient tack, it may not be able to attach on the surface of skin tightly as a result, its performance will be compromised and the surgical operation will be interrupted. Therefore, it is necessary to test the tack of surgical film before use.
Tack of surgical film can be represented by its peel strength. This article is going to introduce the peel strength test method of surgical film.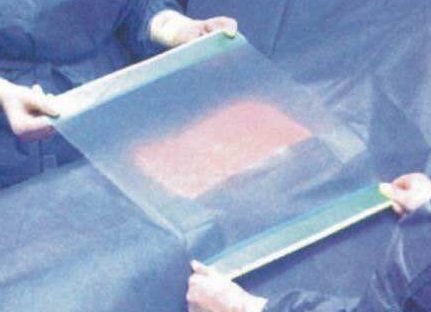 Figure 1. Sterile Surgical Film
The tests are performed according to YY 0852-2011: Sterile surgical films for single use. The test samples are sterile surgical films provided by one manufacturer of medical products. The testing instrument is Link Testing's LTS-05 Auto Tensile Tester.
Figure 2. LTS-05 Auto Tensile Tester
Test Principle
The force required to peel the specimen (sterile surgical film) off the stainless steel plate is determined in the test. The specimen is pasted on the stainless steel plate. The free end of specimen and the steel plate are clamped in the upper and lower sample grips, respectively. The upper sample grip can move upward. The lower sample grip is stationary. When the upper sample grip moves upward, the specimen will be peeled off the steel plate. The force will be detected and recorded by the load cell built in the upper sample grip. When the test is finished, the result of peel strength will be displayed automatically.
Instrument Features of LTS-05 Auto Tensile Tester
Load cell capacity is 250 N, 50 N, 100 N and 500 N are optional.
Testing Accuracy is better than 1% FS, which can guarantee the accuracy of test results.
Stroke is 600 mm.
The instrument is designed with bidirectional test mode of stretching and compression, which can meet various test requirements.
6 test speeds (forward and backward) can be selected, i.e. 10 mm/min, 50 mm/min, 100 mm/min, 150 mm/min, 200 mm/min and 300 mm/min.
Intelligent designs of over-travel protection, overload protection, and automatic position reset for safe test operation.
16 independent test modes are available, including tensile strength, and peel strength of medical appliances and foams.
This instrument utilizes Link Testing's latest embedded computer control system and operating software, with user-friendly operating interface and intelligent data management. It also supports LystemTM Lab Data Sharing System, which ensures uniform management of test results and test reports.
Application Scope of LTS-05 Auto Tensile Tester
This instrument is applicable for determination of 90 degree peel strength, 180 degree peel strength, tensile property, tearing resistance and heat seal strength, etc.
This instrument can be used for puncture resistance test of rubber closures, breaking force test of ampoule, sliding resistance test of syringe, Seal Performance Test of Hypodermic Syringe, Puncture Test of Hypodermic Needle, Fastness Performance Test of Hypodermic Needle and Needle Hub, Fastness Performance Test of Hypodermic Needle Cap and Needle Hub, Compression Test of Plastic Blood Bags.
With special customized testing accessories, this instrument can be also used to test the pullout force of rubber closures, unwrapping force of adhesive tapes, separation force of protective films, removal force of combined caps and separation force of release paper, etc.
This test instrument conforms to the following standards:
ISO 37, GB 8808, GB/T 1040.1-2006, GB/T 1040.2-2006, GB/T 1040.3-2006, GB/T 1040.4-2006, GB/T 1040.5-2008, GB/T 4850-2002, GB/T 12914-2008, GB/T 17200, GB/T 16578.1-2008, GB/T 7122, GB/T 2790, GB/T 2791, GB/T 2792, GB14232.1-2004, GB15811-2001, GB/T1962.1-2001, GB2637-1995, GB15810-2001, ASTM E4, ASTM D882, ASTM D1938, ASTM D3330, ASTM F88, ASTM F904, QB/T 2358, QB/T 1130, JIS P8113, YY0613-2007, YBB00042002, YBB00112004
Testing Process
Condition the test samples at 22℃, 60%RH for 24 hours. Then cut 5 pieces of specimens from the sample material. The specimens should be 25.0 mm wide and 400 mm long.
Take one piece of specimen and remove the protective layer. Then paste the specimen at the center of stainless steel plate immediately. The length of the adhesive area of specimen should be at least 200mm. The two lengthwise sides of the specimen should be paralleled to the lengthwise sides of the steel plate. Roll the pressure roller on the specimen for 4 times and then wait for 10 minutes.
Clamp the free end of specimen and steel plate in the upper and lower sample grips respectively. Set specimen name, specimen thickness, test speed and other test parameters. Then click Test to start the test. The force value will be displayed in the real time of peel test process. The test result will be automatically displayed after test.
Test other 4 pieces of specimens according to step 2 and step 3.
Test Results
The test results of the 5 specimens are 5.314 N/25mm, 6.076 N/25mm, 5.904 N/25mm, 5.731 N/25mm and 6.008 N/25mm, respectively. The final result of peel strength is the average result of the 5 results, i.e. 5.807 N/25mm.
Conclusion
Adhesion is the most critical property of sterile surgical film that may influence its usage and performance. The adhesion of sterile surgical film is determined by its peel strength.
This article provides a test method of peel strength of sterile surgical film by using Link Testing's LTS-05 Auto Tensile Tester. The instrument is easy to operate and featured with intelligent design and high testing accuracy.
It can be known from the test results that the peel strength of the specimen is 5.807 N/25mm, which means that a force of 5.807N is required to peel the 25mm wide specimen i.e. 2.323 N for 1cm, which meets the requirements of standards (not less than 1N).
For more details about our packaging testing instruments and services, please visit www.linktesting.org.