Source: Link Testing Instruments Co., Ltd
The waterproof overshoes are new product that are emerging in recent years, which use natural rubber added by new type durable slip-resistant additives as raw material, combining the advantages of rubber boots and disposable plastic shoe cover.
The waterproof overshoes are lighter than rubber boots and easy to carry. In rainy or snowy days, shoes can be protected from water and mud by wearing overshoes outside. Overshoes can also be used in the ancient buildings, research institutions, medical institutions, hotels and family to protect the ground and prevent ground contamination. In contrast to disposable plastic shoe cover, the overshoes are more durable, recyclable, degradable, slip-resistant and easy to carry and clean and that is why they are well received by the public.
The waterproof overshoes are usually composed of two parts i.e. cover and sole. The two parts are combined by heat sealing and the heat seal strength shall be sufficient otherwise the sealing area may be broken and as a result the overshoes may not be able to protect the shoes properly. Therefore, it is necessary to measure the heat seal strength of the overshoes.
This article provides a simplified test method of the heat seal strength of waterproof overshoes for your reference. The testing instrument used for the tests is Link Testing LTS-05 Auto Tensile Tester. The reference standard is QB/T 2358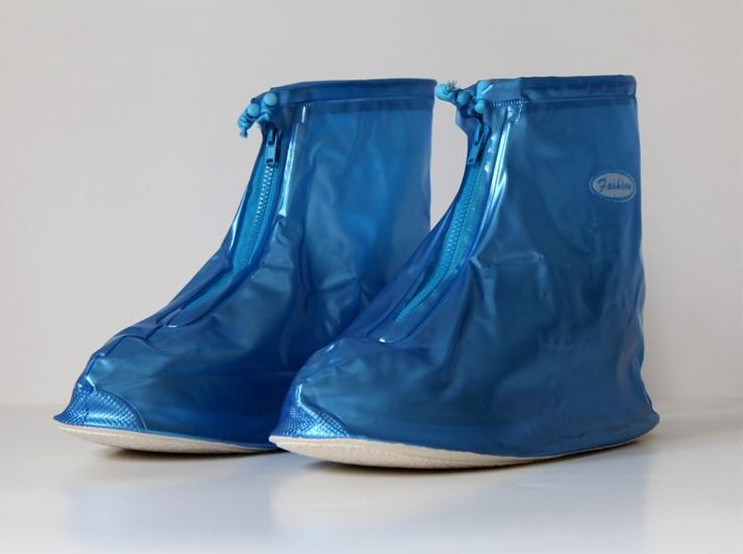 Figure 1. Waterproof Overshoes
Test Principle of LTS-05 Auto Tensile Tester
The specimen is clamped in the upper and lower sample grips. Then the upper and lower sample grips will move in opposite directions. Load cell embedded in moveable sample grips and the displacement sensor will detect and record the force changes and displacement changes in testing process. Finally, the tensile properties, tear resistance and deformation rate, etc. can be calculated.
Application Scope of LTS-05 Auto Tensile Tester
(1) This instrument is applicable to measure tensile, peeling, deformation, tearing, heat sealing, adhesive, puncture force, opening force and low speed unwrapping force as well as other performance of plastic films, composite materials, soft package materials, plastic flexible tube, adhesives, adhesive tape, label stickers, medical plasters, release paper, protection films, combined caps, aluminum foil, diaphragm, back sheets, non-woven fabrics, rubber, paper, etc.
(2) The reference standards for XLW (EC) Auto Tensile Tester include GB/T 10004, GB 8808, GB/T 1040.1, GB/T 1040.2, GB/T 1040.3, GB/T 1040.4, GB/T 1040.5, GB/T 4850, GB/T 12914, GB/T 17200, GB/T 16578.1, GB/T 7122, GB/T 2790, GB/T 2791, GB/T 2792, GB/T 17590, ISO 37, ASTM E4, ASTM D882, ASTM D1938, ASTM D3330, ASTM F88, ASTM F904, JIS P8113, QB/T 2358, QB/T 1130
Instrument Features of LTS-05 Auto Tensile Tester
Load cell capacity can be selected, 500N or 50N.
Seven test speeds can be selected, 50 mm/min, 100 mm/min, 150 mm/min, 200 mm/min, 250 mm/min, 300 mm/min and 500 mm/min.
1000mm extra-long stroke satisfies the test needs of various materials with extreme elongation rate.
Intelligent designs of over-travel protection, overload protect, automatic position reset and power failure memory for safe test operation.
7 independent test modes are available, including tensile strength, peeling force, tearing force and other force properties of flexible packages.
Supports LystemTM Lab Data Sharing System for better data management.
The tests shall be performed according to the following procedures.
(1) Cut 10 pieces of specimens from the sealing area of the provided sample. The width of the specimen shall be 150mm and the spread length of the specimen shall be 100mm.
(2) Set specimen width, test speed and other test parameters.
(3) Clamp the two ends of the specimen in the sample grips. The longitudinal axis of the specimen shall coincide with the line of centers of the sample grips.
(4) Click Test to start the test. The system will record the force values in the testing process and calculate the test results automatically.
Test Results
The average heat seal strength of the overshoes is 13.86 N/15mm.
Conclusion
The heat seal strength is critical to overshoes. If the heat seal strength is insufficient, the overshoes may break or become nonresistant to water. LTS-05 is one professional testing instrument for determination of heat seal strength of packaging bags. It is featured with high accuracy and simplified testing operations, which can also test the puncture resistance, tensile strength and deformation rate and other mechanical properties of plastic films and packages.
Link Testing Instruments Co., Ltd is always dedicated to providing global customers with professional testing instruments and testing services and helping customers solve various packaging problems.
For more details about our instruments and testing services, please visit www.linktesting.org.